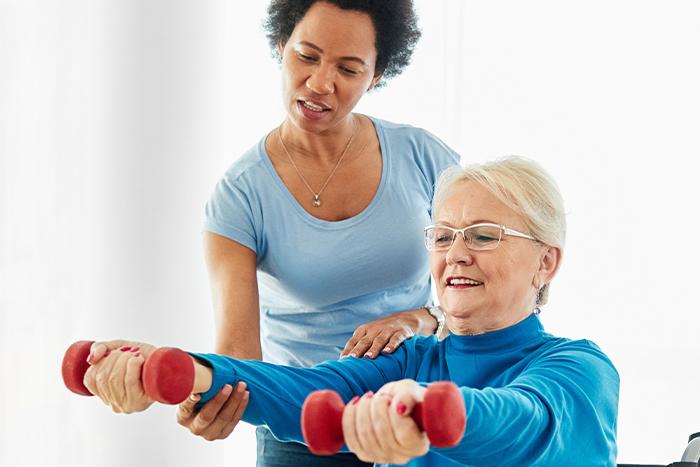 When it comes to in-home therapy, we've assembled the most skilled professionals to serve you. You get the quality you'd expect from a therapist, and we also have the flexibility to provide you with the other healthcare services you need.
Receive the Best In-Home Therapy Services for Your Condition
Our network of experts at Ohioans allows us to provide specific care that matches your preferences. We have licensed and certified professionals ready to work to help you recover. Therapy is different for everyone, and our team understands that you may need special care. We're always here to talk and provide treatment at your convenience.
In-home therapy services do not need to be challenging. All it requires is the right voice and experience to help ease you into better conditions. Our team works to educate and provide quality services to our clients.
Occupational Therapy
We have many occupational therapists providing in-home therapy services to help patients and their caregivers. We educate and teach them what they need to do to perform daily activities. These include:
Dressing and bathing
Light meal preparation
Bed and chair transfers
We do a thorough assessment and figure out what each client needs. We then provide avenues where they can get:
Wheelchairs
Scooters
Grab bars
Elevated toilets
Physical Therapy
Training a patient to move and be independent requires patience. A deep understanding of the recovery of the body is also necessary. We work with some of the best physical therapists to ensure that patients stay safe as they're learning to get back to 100%. Some of the training we provide in our in-home therapy services include:
Fall prevention
Balance training
Increasing endurance
Reduction of pain and stiffness
Improving range of motion
Like our occupational in-home therapy services, we also handle assessments with our patients. We can provide equipment like walkers, canes, and wheelchairs if necessary.
Speech-Language Pathology
Many patients experience speech issues due to underlying conditions or previous trauma. There can be many sources, which is why we have a team of experts ready to help them communicate effectively. We've helped patients with issues such as dementia, stroke, and Parkinson's disease. Our in-home therapy services can help improve problems with:
Swallowing dysfunction
Motor skills and speech development
Cognitive and memory function
In-Home Therapy in NW Ohio & SE Michigan
At Ohioans Home Healthcare, we create an environment where patients have peace and security. You'll have reliable care from professionals who understand what you're going through. If you have any questions, feel free to contact an in-home therapy facility near you.