All About HHC Careers – Join the Ohioans Team Today!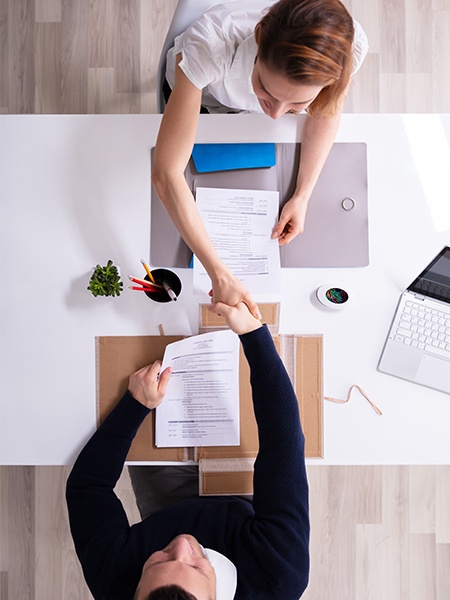 The home healthcare (HHC) industry can provide immense growth opportunities and rewarding experiences providing excellent care to in-home patients. This is why building a strong team of professionals remains a critical core value to our organization.
If you are considering entering the HHC career field, we encourage you to consider some of the many options available to you. This industry allows you to shape your own path in ways that few others do.
Is an HHC Career Right for Me?
The HHC field requires individuals who have a heart for other people and take joy in making tangible differences in others' lives. Providing care and preventing harm are two pillars that all medical professionals stand on. A person who will succeed in the HHC field will need to be friendly, outgoing, patient, and empathetic with a commitment to caring for others.
Benefits of Joining the Ohioans Team
We strive to maintain a culture that constantly looks for new ways to invest in our team members' careers. Some of the many benefits that our team members enjoy include:
Flexibility
You can decide the schedule that best suits your lifestyle. This means a highly personalized work-life balance tailored to your preferences.
Autonomy
You can take ownership of your role on the Ohioans team. That means we let our experts be experts. Use your knowledge, skills, and judgment to provide the best level of treatment possible to your patients. You can also work additional hours, if desired.
Case Diversity
Our broad patient diversity means you will have the chance to interact with a variety of clients. This includes high-acuity cases that enable you to apply all of your skills and knowledge to improve as a professional.
Staff Support
We will do everything in our ability to equip you with what you need to succeed. This includes:
Case manager accessibility at all times
iPad/electronic charting
Portable printers
Open-door policy for executive management
When you join our team, we want you to feel as confident as possible that you have been given the tools you need to do the best job possible. If you need support in other ways beyond what's listed above, we are always willing to listen and work with you to develop a solution together.
Industry-Leading Training
We provide you with a robust orientation that includes insightful lectures, hands-on field time, shadowing, and preceptor support. Beyond this, you will also have access to skill labs and the incredible Elsevier home Health Care platform that can be accessed via any mobile device.
Continuity of Care
Positive patient relationships drive all of our engines at Ohioans. Beyond providing routine care for your patients, you can also build fulfilling, long-term relationships with them and witness positive outcomes as they regain health and their independence increases.
Better Compensation and Benefits
You deserve to be paid what you're worth. Our team members are the key component to our success. Our pay-per-visit model and benefits package also includes a company car, 401(k) plan, PTO, short-term disability, a diverse portfolio of insurance options (medical, dental, vision, and life), and more.
Nursing Positions Available
Registered Nurse (RN)
RNs are relied on to assess, plan, and implement patient care. This also includes educating patients and their families on any and all relevant condition-specific information, procedures, and medications that are part of the treatment plan.
RNs are also expected to help meet a variety of patient needs that include, but are not limited to:
IVs
PICC lines
Lab draws
Wound care
Trachs
G/J tubes
Foley catheters
Medication administration
Home Infusion Nurse (RN)
Our Home Infusion Nurses are expected to perform a similar scope of work to our other RNs, but with a specialized additional focus on infusion therapy. This includes a more acute focus on treatments like IVs, PICC lines, and lab draws as well.
Licensed Practical Nurse (LPN)
Under an RN's supervision, an LPN will provide nursing services to patients throughout their local service area. Duties include, but aren't limited to:
Educating patients/families on relevant conditions, processes, procedures, and medications
Wound care
Trachs
G/J tubes
Foley catheters
Medication administration
Office/Administrative Openings
Care Coordinator (MA or LPN)
Our Care Coordinators ensure that all parties involved in patient care remain in lockstep with one another. Care Coordinator duties include:
Scheduling and managing the daily workload of caregiver staff
Evaluate patient referrals
Ensure patient care meets company quality standards
Assign cases to RN case managers
Manage staff productivity
Act as an informational resource for nurses
Medical Equipment and Supplies Coordinator
Without the right medical equipment and supplies, our team cannot perform their jobs effectively. This critical role ensures that our nurses are provided the necessary equipment to provide top-quality care to our patients.
Duties include, but are not limited to:
Maintaining positive relationships with nurses in your coverage area
Order supplies for patients relative to their needs and treatment plans
Learning and understanding insurance allowables for supply orders and communicating these amounts to the care team
Facilitating correct documentation for equipment
Ordering equipment in a timely manner
Maintain positive relationships with community DME pharmacies and suppliers
Ensure the office supply room is adequately stocked for nursing needs
Candidates with a high school diploma or equivalent credentials, a knack for impeccable organization, the ability to move and lift boxes up to 50 pounds in weight, and can demonstrate tactful and professional communication abilities are those most likely to be considered for this role. Previous experience in a similar role is preferred but not required.
Billing Coordinator
A timely and accurate billing process plays a critical role in our organization to continue operations smoothly. Our Billing Coordinators are expected to ensure completion and submission of commercial and private pay billing, perform accounts receivable tracking, and follow up on any outstanding payments.
This role requires excellent communication skills, at least two (2) years of healthcare data entry experience, and at least one (1) year of general healthcare industry experience. A high school diploma is required, but candidates with at least two (2) years of college experience are preferred.
Want to Know More About HHC Careers? Get in Touch!
At Ohioans, we strive to elevate the quality of care our patients receive on a consistent basis. We proudly serve communities throughout Ohio and Michigan. If you would like to learn more about joining our team and want to discuss HHC career opportunities, please view our current openings at any time.