Home is Where the Healthcare is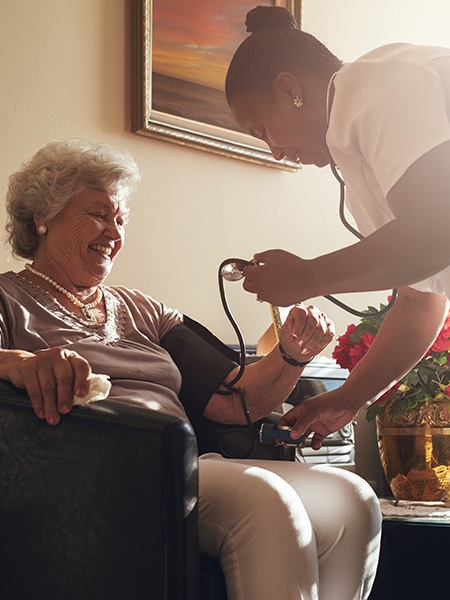 Have you ever been in a professional medical setting and thought, "This is so much more comfortable than my own home?"
Exactly – neither has anyone else.
For many people, being treated in unfamiliar settings can seem intimidating, inconvenient and generally stressful.
At Ohioans Home Healthcare, we understand that the comforts of home can't truly be duplicated in a clinical setting. We know that your home is your safe place, the place you feel most comfortable and "yourself." It only makes sense that you'd prefer to receive medical care such as skilled nursing, therapy services or pediatric care there.
Ohioans takes great pride in offering professional healthcare in the comfort of your home. Here are some of the ways receiving services in the comfort of your own home can make a difference:
Shorten hospital stays: Our nursing capabilities help provide the medical assistance you need without extending your time in the hospital. At home, you can receive instruction on tasks such as wound care treatments, IV therapy, postoperative care and more.
Save costs: Receiving treatment in your own home can save thousands of dollars compared to intensive treatments received in a clinical setting.
Improved outcomes: Getting skilled nursing and professional therapy services – physical, occupational and speech language pathology – decreases hospital readmittance rates. Ohioans' services can help patients improve their overall health, balance, endurance and range of motion, reducing the risk of falls and further injury.
One-on-one attention: While working in the home, our staff member gets to know the patient personally and develop a more individualized health plan to best suit their situation. Having a personal connection with the patient helps improve outcomes and prevent future problems.
Peace of mind: One of the best aspects of home healthcare is the peace of mind it brings patients and their families, knowing that the person is receiving the best care by highly trained professionals in the most comfortable way possible.
To learn more about Ohioans Home Healthcare and how it can help keep you healthy at home throughout Ohio and southeast Michigan, call us at 855.600.0806 or contact us online.