Set a 2022 Resolution and Put It Into Action!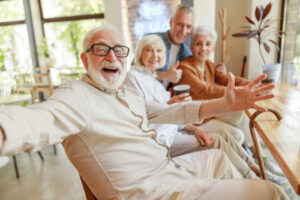 As we say goodbye to Halloween and look forward to the next set of holidays, it will be time to prepare for the new year before we know it! During this time of the year, it's a great idea to set some personal goals that can improve the quality of your life. Here are some 2022 resolution ideas to get started with as we wait for the new year to roll in.
Move More
Staying active is a great way to support healthy aging. Mild to moderate exercises, such as yoga, water aerobics, or walking, strengthen your bones and muscles while helping you maintain a healthy weight.
Staying active can also boost mental health, especially if you include your loved ones. When considering your 2022 resolution ideas, be sure to plan to move more and engage in some exercise. It can be as simple as committing to exercising for ten minutes a day.
Volunteer
Volunteering is a fantastic way to stay engaged with your community and interact with other like-minded individuals. Socializing is essential for healthy aging, and volunteer opportunities bring a sense of accomplishment, fulfillment, and self-confidence.
Not sure where to begin? Places like nonprofits, churches, hospitals and other community-based organizations often have plenty of volunteer opportunities to check out.
Improve Your Sleep Routine
A healthy night's sleep is critical for people of all ages. Even for older adults, seven to nine hours of sleep per night is ideal. If you are not getting at least eight hours of sleep each night, consider adjusting your routine for a healthier rest.
Improving your sleep routine can help you maintain a strong immune system while improving your memory and concentration. For the best results, start going to bed and waking up at the same time every day.
Produce Less Consumer Waste
Consumer waste has a massive impact on the health of our climate and environment. This year, consider using more reusable containers, shopping bags, and other nonperishable alternatives to reduce the total waste you generate in a year. Participating in leaving a better world to the next generation can provide you with a sense of joy and fulfillment.
Create Some Healthy (and Delicious) Recipes
Keeping a healthy diet is one of the most ideal health goals for seniors. Eating well supports healthy organ function, mental health and can taste great too! Kick off the new year by looking up some tasty, nutrient-rich recipes and trying them for yourself. Don't forget to stay hydrated – keep a container of water nearby and take frequent sips throughout your day.
Take an Online Class
No one is ever too old to keep learning! Plus, keeping your brain active can ward off mental deterioration. There are plenty of great classes online that cover nearly any topic you might be interested in.
Start and Finish a Book Series
Reading can play a crucial role in maintaining healthy cognitive function. If you like to read, consider finding a new book series that interests you and read it from start to finish throughout the year. Local libraries have a wealth of free series for just about any genre you could pick from. Some also offer audiobooks for those who may have vision difficulties.
Try Something Creative
We all have an inner artist inside of us. If you're looking to pick up a new hobby this year, consider trying your hand at something creative, such as writing, drawing, painting, etc. For a real brain teaser, you might even take a shot at sudoku or crossword puzzles. You never know – you might discover a hidden talent or find something that you really enjoy.
Prioritize Your Mental Health
When living at home, it's common for feelings of isolation or loneliness to creep up on a person's mental health. A healthy mind is a key part of healthy aging. If you are struggling emotionally, make an appointment with a counselor or therapist. Staying connected gets more and more important as you age, so it is essential to prioritize your mental health.
Keep a Journal
Journaling can help organize your thoughts and explore them. There's no right or wrong way to keep a journal – do what comes naturally! Whether you keep a gratitude journal, practice writing, or document your days, buy yourself a lovely journal and let your thoughts flow.
Prioritize Your Physical Health
Preventing illness is easier than treating it, so don't forget to prioritize your health by practicing preventative health measures. Schedule all of your annual physicals and screenings, get up to date on your vaccinations, and actively manage your medications to ensure a long, happy year.
Are you considering home health care this year? Many senior citizens prefer to be at home rather than go to a nursing facility. Home health care can provide various benefits that support daily living, longevity, and quality of life. If you're looking to provide in-home care for a loved one, contact Ohioans Home Healthcare to learn more about our services for the Ohio and Michigan areas.