Organize Your Medical Information this Month!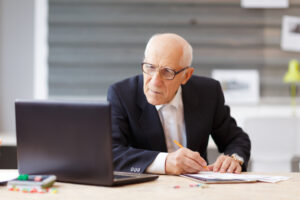 October is National Organize Your Medical Information Month. Whether you are a family caregiver or an independent senior citizen, coordinating doctor appointments and medical treatments is a top priority for keeping your or your loved one's health in check. Since life is filled with other tasks to complete, such as household cleaning or grocery shopping, it can be easy for important medical information to get lost in between.
This month, we're highlighting the importance of protecting your medical data and keeping it de-cluttered. If your medical provider or a loved one needs to access this information, they will be able to do so efficiently. Here are some tips for organizing your medical information before the rush of the holiday season:
Physical Documents
A great way to kick off Organize Your Medical Information Month is to create a medical binder where you can keep your physical documents organized and readily accessible. If you don't have a binder, you can put your physical records in a secure place where you can easily manage them, such as a file cabinet.
You might even consider putting essential papers in a locked fireproof container (be sure to remember where you put the key!). No matter which method of storage you choose, keep the files somewhere in your home where they can be easily accessed.
Digital Documents
Storing digital documents can help caretakers and independent seniors manage medical information more effectively and efficiently. If keeping your records on the computer, put them in a central storage area that you can organize and access, such as a local file folder, a thumb drive, or a cloud folder.
To avoid cyber security threats, make sure you store them in a secure, HIPAA-compliant manner to prevent intruders from obtaining your information. There are also several electronic health storage tools online. You can use these to securely store your files and give access permissions to doctors and family members.
Organize Your Information by Category
If you see multiple doctors or specialists, it can be easy to mix up information. Organizing your files by category can help you avoid such mistakes. For instance, a file of a digestive health condition should not be mixed in with one for a broken bone. You can also organize treatments, procedures, surgeries, or medications that you've had or are taking in their respective categories, either by condition or by the doctor/specialist who treated you.
Organize Chronologically
To make your information even more organized and readily accessible, store it in chronological order. Doing so can also make it easy for doctors, who will have an accurate timeline of you or your loved one's medical history. One easy way to organize information chronologically is to store it from oldest to newest or newest to oldest.
Types of Records You Should Keep
Not sure which type of records are worth keeping? When it comes to medical information, you can have a lot of papers on hand. Knowing which type of records you should observe is critical for staying coordinated. Here are some examples of what you should keep:
Family Health History
Keeping your family health history on hand can help doctors uncover important information such as genetic allergies, health conditions, and risk factors.
Personal Health History
Likewise, your specific personal health history, including any conditions you've been treated for, should always be in your files. You should also note all prescription drugs that you or your loved one take to the best of your ability.
Doctor and Hospital Visits
Keeping a log of your doctor and hospital visits handy helps summarize your personal health history for quick and easy care.
Test Results
Make sure you include a list of test results from procedures such as biopsies, bloodwork, x-rays, urine tests, and any other testing you've had.
Legal Permissions
Finally, always keep a copy of legal permissions with your records, including documents such as your living will or power of attorney details.
Don't Forget Financial Records
When organizing your or your loved one's medical information, don't forget to include any financial records. Doing so helps keep records of all medical billing and payments, which can help resolve insurance disputes and protect your finances.
By organizing your medical information, you can help doctors and other providers, such as our team at Ohioans Healthcare, give you the best care possible. If you haven't already compiled your or your loved one's medical information, consider taking these steps to get started. If you are interested in learning more about our home healthcare services, contact us today.