Keep Moving with Physical Therapy Month!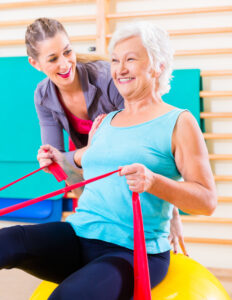 Every October is National Physical Therapy Month and a perfect opportunity to raise awareness about the benefits of senior physical therapy. At Ohioans, we offer three types of treatment: physical therapy, occupational therapy, and speech-language pathology. We work with leading local providers to develop treatment plans for our clients and educate our staff on how to help support your individualized treatment plan. This month, we highlight the many ways in which physical therapy can improve you or your loved one's quality of life.
Physical Therapy
If you are an older adut mobility has been limited due to injuries or strokes, senior physical therapy can help you achieve more movement in the body. At Ohioans Home Healthcare, we provide the following physical therapy services to help you or your loved one maintain safety and independence at home:
Fall Prevention
Falls are among the top causes of accidents for senior citizens and often result in a bone fracture or other injury. Physical therapists can provide you with the knowledge and equipment to help prevent falls, significantly reducing the likelihood of injury or death.
Balance Training
Physical therapy can help you learn how to maintain stability when mobile—maintaining a level balance while moving can improve your mobility and decrease your risk of falling. If you have already experienced an injury, balance training can also help to prevent re-injury.
Increasing Endurance
As we age, our bodies do not generate the same energy they used to and sometimes even require more energy to keep moving. When you participate in physical therapy exercises, not only can you improve your endurance, but you can also increase your chances of living an active, independent lifestyle for a more extended period.
Reduction of Pain and Stiffness
If you are experiencing pain and stiffness, your discomfort may be stemming from physical causes, such as arthritis or osteoporosis. A customized physical therapy plan can help you reduce general pain and stiffness, offsetting any future symptoms and leading to increased mobility.
Improving Range of Motion
Seniors looking to maintain an active and independent lifestyle should consider practicing physical therapy exercises that support a healthy range of motion. Range of motion plays a critical role in maximizing your movement. Improving it through physical therapy can help increase your mobility to its fullest potential.
Assistive Equipment
After your physical therapy evaluation, your therapist may recommend assistive equipment like canes, walkers, or other devices to assist with your movement. Such devices can help prevent falls and help you maintain your daily activities and routines safely.
Occupational Therapy
Occupational therapists develop plans to help seniors improve their daily functions. In partnership with these providers, the Ohioans team faithfully follows their recommended treatments. These can include:
Wound Care and Dressing
Whether you are suffering from a leg ulcer or recovering from a surgical procedure, it is critical to care for your wounds correctly. An occupational therapist may assist with dressing and cleaning your wounds to promote healthy healing and longevity.
Meal Preparation
Meal preparation often requires bending, reaching, pouring, and recalling – but for those who suffer from ailments such as arthritis, poor vision, or balance issues, it can become challenging and even take twice as long. Occupational therapists are trained to prepare light and healthy meals for those who experience difficulty cooking for themselves.
Transfers From Bed to Chair
Seniors who experience chronic pain, difficulty moving, or recovering from surgery may need help getting out of bed, heightening their chances of falling. Occupational therapists can help you or your loved one safely rise from beds and into a comfortable seated position in a chair and protect them from injury.
Assistive Equipment
Your occupational therapist may also assess the need for assistive equipment, such as mobility devices, grab bars, and elevated toilets. Sometimes called daily living aids, these devices can help you or your loved one accomplish everyday tasks while improving their quality of life.
Speech-Language Pathology
Dysarthria is a common cause of speech difficulties in seniors. Although various conditions can cause it at any age, dysarthria may present itself among seniors following events like a stroke, progression of Parkinson's disease, head injuries, or dementia. At Ohioans, we work with local speech-language pathologists on treatment plans for our seniors with speech difficulties. These services include:
Swallowing Dysfunction
Individuals who experience a medical episode may need assistance with swallowing afterward. Our team will help you relearn to swallow foods you've been experiencing difficulties with by following a professionally developed treatment plan.
Motor Skills and Speech Development
Performing activities that require using the muscles in your hands, fingers, or wrists requires fine motor skills. Likewise, older adults can experience speech changes due to sensory, cognitive, and neurological factors. Our team can assist with performing treatment exercises to help seniors with speech difficulties learn to redevelop their speech and the motor skills necessary to communicate.
Cognitive and Memory Function
Just as exercise physically strengthens our body, cognitive training can stimulate your brain, keeping it active and sharp. As you age, you may have difficulties in memory recall, problem-solving, and other cognitive functions. At Ohioans, we offer mental exercises to help seniors maintain healthy brain function and memory recall.
Physical and occupational therapy, and speech-language pathology can all play instrumental roles in helping seniors maintain an excellent quality of life. To find out more about our therapy services, please feel free to contact us any time.