Pneumonia and its Risks for Elderly Adults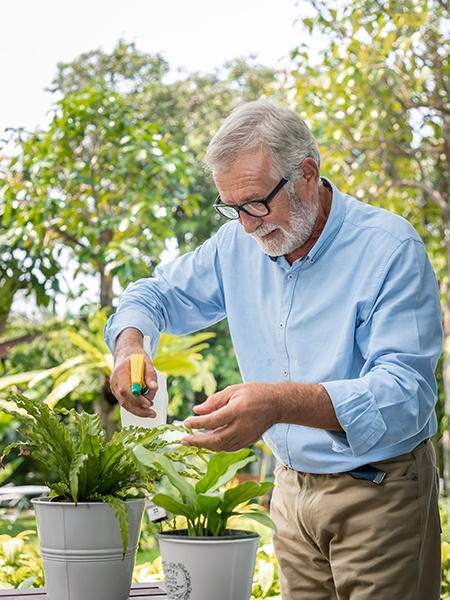 Pneumonia presents a real and serious health concern for most elderly adults in the United States and beyond. However, many people do not know some important facts about the illness, such as the types of pneumonia, how to prevent it, and what your at-home healthcare treatments are. 
In this ultimate guide on pneumonia for seniors, we have compiled a wealth of information that you should find helpful. Keep reading to learn more about pneumonia and what you can do to prevent and/or treat it. 
What Causes Pneumonia?
According to the American Lung Association, there are three primary causes of pneumonia: bacteria, viruses, and funguses. 
Bacterial Pneumonia
This type of pneumonia can develop by itself or as a result of a viral respiratory infection like a common cold or influenza. In most cases, this type of pneumonia will infect an acute part of the body and can pose the greatest risk for those in surgical recovery, dealing with respiratory illnesses, or those with weakened immune systems. 
Viral Pneumonia
The leading cause of viral pneumonia is influenza. Unlike their bacterial counterparts, viral pneumonia cases are often milder, though some can still be deadly. Those with a pre-existing heart or lung condition, and those who are pregnant, are considered the highest-risk populations for this type. 
Fungal Pneumonia
Fungal pneumonia mostly affects those with chronic conditions and/or weakened immune systems, as well as those who come into contact with large amounts of specific types of fungi. It is considered most dangerous for those who are using medication to suppress immune function, such as cancer patients or organ transplant recipients. 
Pneumonia Symptoms
According to the Mayo Clinic, the signs and symptoms of pneumonia can include any combination of the following: 
Chest pain when breathing or coughing

Cough 

Phlegm resulting from cough

Fatigue

Fever, sweating and shaking chills 

Nausea, vomiting, or diarrhea

Shortness of breath 
Other symptoms that people over the age of 65 may experience also include: 
Confusion or changes in mental state 

Lower-than-normal body temperature 
Additionally, these symptoms may present more severely in patients who have weakened immune systems from chronic health conditions, chemotherapy treatment, medication, or other reasons. If you are experiencing any of these symptoms, and are concerned about them, you should contact your doctor immediately. 
How to Prevent Pneumonia for Elderly Adults
Fortunately, there are some concrete steps that you can take to prevent chances of contracting pneumonia. According to the American Lung Association, these include: 
Getting Vaccinated
Pneumonia can be caused by several different conditions, such as influenza, pneumococcal pneumonia, pertussis, and others. Talk to your physician about which vaccines you should receive to help prevent pneumonia. They will be able to advise you on your best options. 
Washing Hands Often
With the COVID-19 pandemic putting personal cleanliness and hygiene at the forefront of everyone's minds, handwashing has become more important than ever. Similarly, you can help prevent chances of contracting pneumonia by often washing your hands after touching common-use surfaces, going to the bathroom, before and after eating, and other activities where your hands can come into contact with germs. 
If you are leaving the house to travel to a public place, bring hand sanitizer with you in your bag or pocket. This can help you maintain clean hands without having to look for a bathroom sink wherever you go. 
Not Smoking
Smoking damages your lungs' immunity to diseases and infections. Smokers are deemed a high-risk population for contracting pneumonia and are often encouraged to receive a pneumococcal vaccine. 
Practicing General Good-Health Habits
These include: 
Monitoring your body for any pneumonia-like symptoms so they can be identified and treated early 

Exercising regularly 

Eating a balanced, healthy diet 
Practicing healthy lifestyle habits like these can help either prevent contracting pneumonia or even treat it at its earliest stages to increase the chances of recovery exponentially.  
Pneumonia Treatment Options
According to the National Heart, Lung, and Blood Institute, your treatment options for pneumonia, depending on your personal risk factors, can include: 
At-Home Treatment
If your doctor determines your pneumonia case is mild, they will prescribe medication or suggest one that you can purchase over-the-counter. These can range from: 
Antibiotics to treat bacterial pneumonia

Antivirals to treat viral pneumonia

Antifungals for fungal pneumonia

Over-the-Counter Medication for milder cases and symptom relief 
Hospital Treatment
If your doctor deems your pneumonia case serious enough, they may urge you to seek hospital care to pursue more intensive treatments, such as a procedure or surgery to repair damage caused by the infection. These treatments are designed to both relieve symptoms and prevent redeveloping the illness at a later time. 
How Ohioans Can Help Elderly Adults in Pneumonia Treatment
At Ohioans, our team of highly-trained clinicians will provide our elder clients with a home care plan that will help meet their treatment goals. Our skilled nursing professionals can help with medication education, nutrition counseling, respiratory and cardiac assessment, and coordinate with your physician to ensure you are receiving the best at-home care possible. 
To learn more about how we help our elderly neighbors with at-home pneumonia care, please contact us anytime.