Technology Improves Quality of Life for Seniors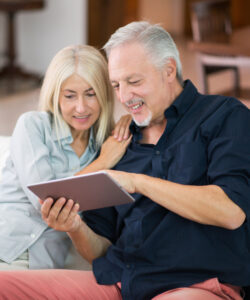 In today's high-tech society, it's no wonder that more and more seniors are turning to technology to improve the quality of their lives. From real-time health monitoring services to telehealth, reading apps, courier services, and beyond, many technologies are available to make life easier. Check out these six ways that technology for seniors can enhance their wellbeing.
Monitor Your Health with Real-Time Services
Monitoring your loved one's health has never been easier, thanks to real-time health monitoring apps and services. Devices like smartwatches and fitness trackers can track sleeping patterns, monitor heart rate, send movement reminders, and even contact emergency services in the event of an accident, such as a fall.
According to the CDC, 36 million seniors fall every year, leading to over 32,000 deaths annually. Wearable technology isn't just for the young and fit – now it's for everyone and can even save lives. For example, Apple Watches have an Emergency SOS feature that can call local authorities or predefined emergency contacts while sharing your location to them.
Connect with Doctors Online Instantly
Say goodbye to dreary waiting rooms and hello to medicine in the comfort of your home. Innovations in telemedicine have made it possible for seniors to maintain their independence to connect with doctors online using video call features on telehealth apps. Such technology offers a range of services that make healthcare more manageable and more accessible.
From on-demand video chats with doctors to virtual preventative health visits, there's an app for that. There are similar apps available for download where seniors can access their medical records via a web portal or track their vital signs with remote monitoring devices. Telehealth apps are an excellent option for those who want more peace of mind without sacrificing their self-sufficiency. Best of all, there's no more waiting weeks for an appointment or deal with being put on hold.
Enjoy Favorite Books
If your loved one loves to read books but finds it difficult to see the pages, reading apps can be a lifesaver! Today's technology for seniors has made it easy to enjoy reading again, thanks to free reading apps like Libby, Kindle, Scribd, and Audible. Many of these apps have features that can bring up favorite titles in large print or even in audiobook format, so all one has to do is sit back, relax, and enjoy a good story or two during their retirement. Whether your loved one wants a similar experience of going to a library and checking out a book or the option to purchase a title, there is an app that can satisfy their needs.
Stay Connected to Loved Ones with Social Media
No matter where you and your loved ones are located, you can both beat isolation blues by staying connected with social media. Social media apps like Facebook and Instagram make it simple for seniors to develop relationships with loved ones even from afar. Some apps, like Pinterest, can stimulate creativity with their many "do-it-yourself" project pins that are certain to keep all ages active.
Run Errands Without Leaving Home
In the event that your loved one discovers they've run out of paper towels or are out of an ingredient they needed for dinner, there's no need to panic, thanks to online courier services. Services such as Amazon, Instacart, or DoorDash make it easy to have everyday items, groceries, and warm meals delivered straight to your doorstep. Services like these are great options for those who cannot drive or have limited mobility since they eliminate the need for unnecessary travel.
Stay Informed
While many seniors live healthy and active lives, the truth is that aging is inevitable. Luckily, there is a great selection of reputable health and wellness websites where seniors and their loved ones can research medical conditions and treatment options. For example, NIH Senior Health is an extension of the National Institute of Health. It provides a wealth of information on topics on everything from bone health to nutrition and beyond.
These are just a few incredible ways that seniors can use technology to improve their quality of life. If you have a loved one who is inevitably aging, consider helping them learn to use electronics so they can take advantage of these fantastic benefits.
The Ohioans team strives to remain as technologically current as possible so we can work alongside medical providers to support at-home telehealth treatment plans for your aging loved ones. Contact us today for more information on how we can help your loved one enjoy greater independence while continuing to live in the comfort and familiarity of their home.