What is the Difference Between Medicaid & Medicare?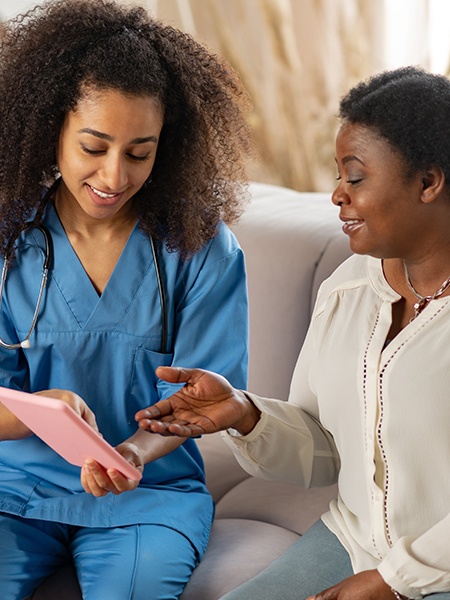 Trying to figure out Medicare and Medicaid can leave your head swimming with questions. What do I qualify for, and what are my coverage options? Ohioans Home Healthcare will help you compare coverage programs and determine which option is best for you.
Medicare vs Medicaid
What is Medicare?
Medicare is an age-based healthcare program funded by the federal government for people 65 and older. People under 65 with particular diseases and disabilities may also qualify. Medicare is paid for by the public, like an income tax. You're automatically enrolled in Medicare once you turn 65.
What is Medicaid?
Medicaid is also a publicly funded healthcare program run by both federal and state governments. Medicaid is based on an individual's income status. Coverage options vary because it is partially regulated by state governments.
Qualifications for Medicare
Medicare is split into Parts A, B, C, and D. To qualify for Parts A and B, you must be 65 or older, or disabled and collecting Social Security for at least two years. Part B is optional, and you must sign up during enrollment periods.
Part C, or Advantage Plans, requires the same criteria as Parts A and B but excludes individuals with renal diseases and those in hospice care.
Medicare Coverage Options
Part A: Hospital services, part-time skilled nursing care and home health aide services, physical/occupational/speech therapies, and home medical supplies. Does not cover dental or vision.
Part B: Medical services, like preventative and screening tests, and comes with additional costs. Similar home health care coverage as Part A. Does not cover dental but may cover basic vision tests.
Part C/Advantage Plans: Similar coverage to Parts A and B and may cover prescription drug expenses. Advantage Plans offer coverage through Medicare-approved insurers and may include dental and vision.
Part D: Prescription drugs.
Qualifications for Medicaid
The qualifications for Medicaid vary depending on your income, disability, the size of your household, and family status. Applying for Medicaid can take weeks to months and may require medical screening and documentation of past and present financial hardship. Qualified Medicaid applicants include:
Low-income families and individuals
Pregnant women
Teenagers living alone
Elderly, blind, or disabled
Parents of sick children
Those with high medical costs
Medicaid Coverage Options
Medicaid offers mandatory coverage of some services, but states decide which auxiliary services are covered. Coverage includes:
Dental: Preventative, medical, and surgical dental services for adults, and all dental care for children.
Vision: Eye exams, glasses, and optometry services
Medical: Hospitalization/clinic services, labs and X-rays, family planning and midwife services, home healthcare for those eligible for nursing facilities, and doctor and nursing services
Home health services: Part-time professional medical care, custodial home care, housekeeping services, medical equipment, and transport assistance
Can You Qualify for both Medicare & Medicaid?
You can qualify for both Medicare and Medicaid. Most healthcare costs are covered if you have dual eligibility, including costs incurred from Medicare Parts A and B. If you qualify for Medicare but cannot afford your monthly premiums and deductibles, Medicaid can typically bridge the coverage gap.
Call 855.600.0806 or contact Ohioans Home Healthcare online to learn more about our skilled nursing services.