Dealing with Caregiver Stress: When Home Healthcare is the Right Option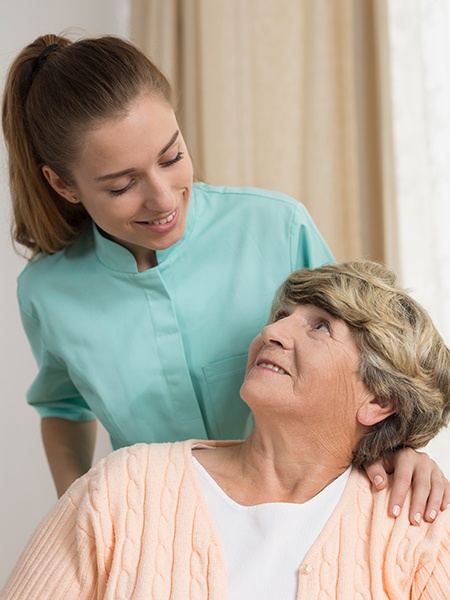 Home healthcare services allow people the opportunity to pursue medical treatment from the comfort of home. This could involve:
Treating chronic conditions (Parkinson's disease, diabetes, respiratory issues, etc.)
Infusion treatments (antibiotics, chemotherapy, pain medication, etc.)
Nutrition
Disability management taking charge of chronic conditions like Parkinson's Disease, diabetes, respiratory pathologies, etc.; infusion services (antibiotics, chemotherapy, pain treatment, etc.); nutrition; or disability management.
Typically, home health providers will send patients home with devices or medications necessary for treatment. These could include tools like infusion or insulin pumps, oxygen concentrators, medical oxygen, equipment necessary for treatment (like masks, catheters, medical beds, etc.).
The home health provider will usually arrange for this equipment to be installed at the patient's home. From there, the patient and their family will be advised on how to use and maintain the equipment. As treatment continues, the patient or their caregiver will relay information with a medical professional to track progress.
Is Home Healthcare Covered by Medical Insurance?
When considered a medical necessity, home healthcare is covered by Medicare and other health insurance programs. However, depending on the situation, this may only include certain aspects of care. A patient may be expected to pay supplements during the treatment. It is always best to maintain regular contact with doctors to explain why medical care is needed at home.
What Do Home Healthcare Agencies Provide?
Home healthcare agencies provide specialized nursing care under direction of the referring physicians. Home care agencies require communication between health professionals to ensure that vital functions are maintained and improve as expected. Services also include a thorough criminal background check of nursing assistants, including validation of work references and current skills, bonding, liability insurance, and workers compensation insurance as well as management. all responsibilities related to payroll and withholding taxes. They are in control of ensuring that you have the right carers for your exact needs.
Home Care agencies help find the people to assist you in your goals, giving you peace of mind and comfort in the most difficult times.
When Should You Hire Help?
Home healthcare may be needed at any time and comes in all kinds of forms. As your medical needs evolve, your home health provider can provide a variety of care services to help you. These services are primarily intended to ensure you can live at home for longer.
If you can no longer provide for all of your needs independently, it may be time to hire a home healthcare professional. Some reasons that may limit independence include injury, chronic illness, and old age, among many others.
Home Healthcare Services for a Variety of Patient Needs
Home healthcare allows people to receive the care that they need while continuing to live in the comfort of their own living space. Some common services that providers offer include:
Medication Teaching
Properly educating patients on medication compliance will allow them to maximize the benefits they receive from their care. For example, our team at Ohioans Home Healthcare will aid our patients by monitoring compliance, device set-up, IV therapy, injections, and will act as an informational resource if there are any questions during the course of the treatment.
Nutrition Counseling
Many home healthcare recipients are prescribed special diets and some may also require weight monitoring, intravenous nutrition such as TPN, tube feeding, and other similar care. A home healthcare provider can assist patients with ensuring compliance as well as education on using feeding equipment if the person is able to administer it autonomously.
Respiratory Assessment
Home healthcare providers assist respiratory patients by offering instruction on the use of necessary equipment like inhalers, aerosol machines, oxygen, and more. Furthermore, providers can also assist care recipients by educating them on the proper care methods for all equipment.
Cardiac Care
Home healthcare providers can prove a valuable resource for people in need of postoperative cardiac care. These services include:
Continuous monitoring of chest pain
Continuous monitoring of blood pressure
Continuous edema monitoring
Education on signs and symptoms of further complications
Wound Care
If a patient has sustained a wound, home healthcare aides can conduct dressing changes, wound vac therapy, monitor healing, and identify any infection signs. When necessary, a provider can also give the patient dressing supplies and order wound vacs. These services will help prevent potentially life-threatening infections and promote a healthier recovery process.
Disease Education
The likelihood of dealing with conditions like chronic obstructive pulmonary disease (COPD), congestive heart failure, diabetes, renal failure, multiple sclerosis, osteoporosis, and others can increase with age. A home healthcare provider can provide vital information to care recipients about these conditions to help patients identify any early warning signs or symptoms to help begin treatment as soon as possible.
Is Home Healthcare the Right Option for You?
If you believe that you or your loved one would benefit from home healthcare, please do not hesitate to reach out at any time. We provide at-home care assistance to many individuals across Ohio and are more than happy to answer any questions you may have.
Additionally, if you have given it a thought, here's why you should consider working in home healthcare.