Senior Home Care and Home Health Care: What's the Difference?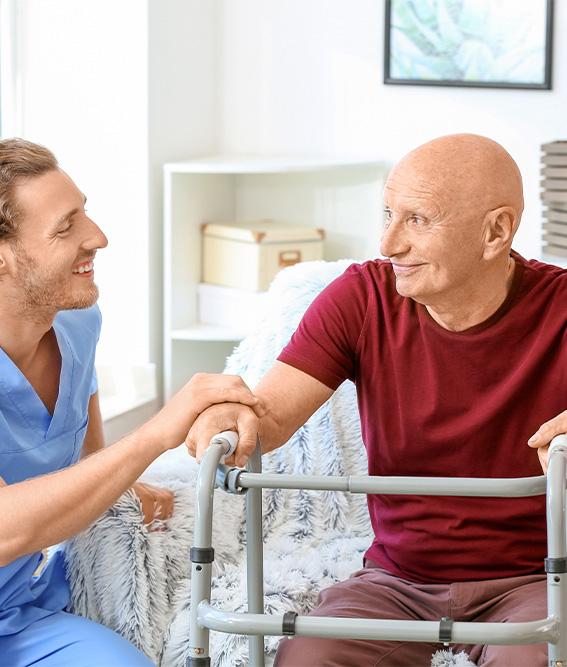 Your loved one may benefit from home care or home health care services if they require clinical or personal support to maintain their quality of life.
Those two services provide your family with an extra set of hands to care for your parent to ensure their health and happiness.
What is Senior Home Care?
This type of in-home care is also known as personal, companion and non-clinical care. Home care is intended for seniors who maintain an independent lifestyle but require assistance with activities of daily living (ADL). Home care aides are trained to identify and address the needs of your loved one.
They help with:
Dressing
Bathing and grooming
Incontinence and toileting
Meal prep and delivery
Feeding
Medication management, but not administration
Cleaning and housework
Financial management
A home care aide also provides companionship, reducing your loved one's risk of loneliness and isolation. Your parent may also need help with transportation, and home care staff will get your loved one to and from medical appointments and activities.
What is Home Health Care?
Licensed professionals provide medical and clinical assistance through home health services. Your loved one will require a prescription from their primary physician to receive home health care provided by private companies, public agencies or hospices.
Licensed practical nurses, registered nurses and occupational and physical therapists administer this type of in-home care.
Home health services include:
Medication administration
Vital monitoring
Physical, occupational and speech therapies
Wound care
Pain management
IV therapy and injections
Skilled nursing services
Who Benefits from Home Care and Home Health Care?
Your senior may benefit from home care if they:
Remain independent and wish to age in place
Require socialization or companionship
Need assistance with personal hygiene, cooking or cleaning
Home health services are best for seniors:
With significant medical concerns
Recovering from hospital stays and rehabilitation
With chronic health conditions such as diabetes, heart disease and COPD
Who require physical and occupational therapy
Recovering from injuries or illness
Prone to falls
Covering Expenses
The cost of home care and home health varies depending on the level of care and state. Home health care is covered by Medicare when prescribed by a physician, Medicaid and private insurance. You can cover the cost of home care with some long-term care insurance policies, private pay and Medicaid for qualifying individuals.
Ohioans Home Healthcare offers comprehensive home health in Ohio and southeast Michigan. Learn about our services and contact us to schedule a consultation.