The Benefits of Using In-Home Therapy Services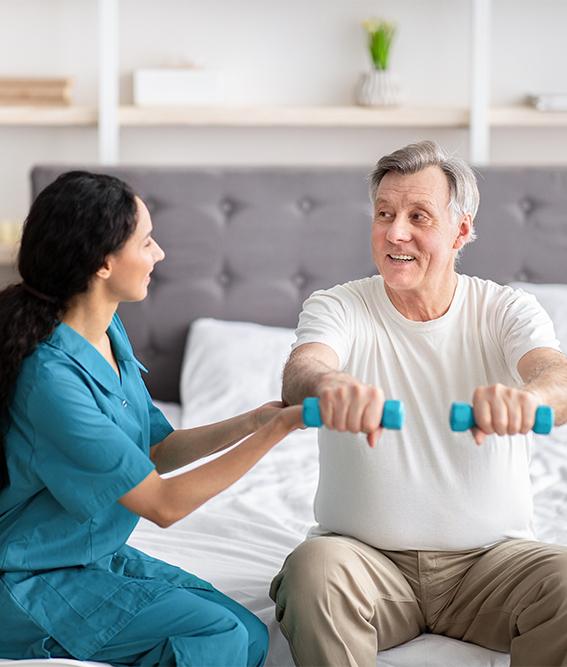 Imagine receiving expert therapy services without having to travel to a facility or hospital. That's just one of the benefits of in-home therapy services.
In-Home Physical Therapy
You may require physical therapy if you're recovering from an illness, injury or surgery. Physical therapy is designed to help ease pain, strengthen muscles, improve mobility and boost range of motion.
Physical therapy exercises help you walk, bend, reach, grasp, stand and sit. Your physical therapist could implement techniques including aerobic exercises and stretching. They can also train you to use a cane, walker or prosthesis.
Benefits of In-Home Physical Therapy
A custom therapy schedule
Individual attention from a certified physical therapist
Eliminate the need for transportation
Increased muscle strength and mobility
Better quality of life and independence
Pain management
Shorter recovery time
Who Should Use In-Home Physical Therapy?
You could benefit from in-home therapy if you:
Experienced a stroke, heart attack or physical injury
Have a neuromuscular condition such as Parkinson's or multiple sclerosis
Have a condition that causes acute or severe pain or discomfort
Lack transportation facility
Want the privacy of a one-on-one session
Struggle with mobility
In-Home Occupational Therapy
Occupational therapy helps you adapt to physical and mental changes so you can complete activities of daily living (ADL).
You could receive therapy to handle ADLs such as eating, bathing and dressing. Depending on your condition, you may need to relearn or learn an alternate way to complete chores and participate in leisure activities.
Benefits of In-Home Occupational Therapy
Personalized evaluations to establish goals
Relearn skills associated with completing daily activities
Establish new routines to regain or enhance physical capabilities
Regain strength
Boost your confidence
Improve safety
Education for family, friends and caregivers
Who Should Use In-Home Occupational Therapy?
Consider occupational therapy if you:
Have an illness or injury that affects your ability to complete ADLs
Live with a chronic disease
Experienced a change in your cognition, including memory loss, dementia or Alzheimer's
Have a prosthesis
Suffered a stroke, traumatic brain injury or paralysis
In-Home Speech Therapy
Speech therapy addresses obstacles that affect talking and swallowing. A speech therapist focuses on articulation to help you speak clearly, especially if you have a structural impairment or paralysis that impacts your mouth movement. Various exercises also focus on problem-solving, memory and conversational tactics
Benefits of In-Home Speech Therapy
Improve articulation and pronunciation
Strengthen verbal and nonverbal communication
Reduce stress associated with socializing
Personalized attention from a dedicated speech therapist
The convenience and privacy of receiving therapy in your home
Better self-esteem
Easier swallowing
Continuous assessment and program adjustments as needed
Who Should Use In-Home Speech Therapy?
Speech therapy can be beneficial if you:
Suffered a stroke or brain injury
Have oral cancer
Have structural abnormalities in your mouth, throat or face
Sustained a facial or head injury
Developed a swallowing issue as a result of dementia or Alzheimer's
Struggle to form or produce words and word sounds
In-Home Therapy from Ohioans Home Healthcare
At Ohioans, we bring healthcare to you. We offer physical, occupational and speech therapies to provide you with the supervised treatment you need to improve your quality of life. Each assessment and care plan is designed to address your unique circumstances and help you reach your wellness goals.
Call 855.600.0806 or contact us online to learn more about our in-home therapy services.