Put Yourself First During Healthy Aging Month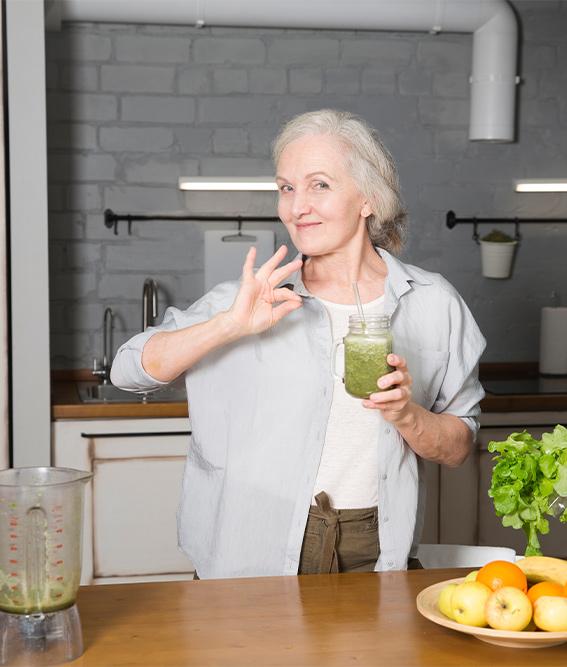 Getting older and wiser doesn't mean you have to slow down. You can do all the things you love by staying on top of your physical and mental health with these five tips.
Follow a Diet and Exercise Plan
Your metabolism changes as you age. Nutrition and exercise help you maintain a healthy immune system.
Here are some diet tips to consider:
Watch your portion sizes: You don't need as many calories as you get older.
Pack on the fruits and vegetables: Five daily servings of fruits and vegetables will provide your body with the necessary antioxidants.
Eat fresh: Stick to whole grains, lean meats and fresh produce, and limit processed foods, sodium and sugar.
Stay hydrated: Shoot for six to eight glasses of water a day.
Exercise tips to remember:
Consult your doctor before beginning an exercise routine, and start slowly.
Aim for 20 to 30 minutes of moderate exercise at least five times weekly.
Try exercises like walking, biking, aerobics and dancing.
Include light weight training or yoga to strengthen your muscles.
Stay Socially Active
Social withdrawal can lead to loneliness and isolation, which isn't good for your cognitive health and memory. Schedule social outings throughout the week or invite loved ones over to catch up. Phone and video calls are another easy way to keep your social meter full.
You may consider volunteering or joining a club to meet new people with similar interests. Transportation services can get you to and from events and outings if you no longer drive.
Check in With Your Mental Health
Too much stress causes an increase in cortisol production in your body. Too much cortisol negatively impacts your immune system, so it's important to find productive ways to manage stress. Mitigate the effects of stress with coping techniques such as journaling, enjoying a hobby, meditating and practicing goal management.
Giving yourself time to unwind and partake in an activity you love is just as important as diet and exercise. It can go a long way toward boosting your mental health and improving your overall quality of life. Practicing gratitude can change your outlook on aging and help you find positivity each day.
Get Some Shuteye
A good night's sleep gives your body time to repair and recharge. Sticking to a consistent sleep schedule can improve your concentration and memory too. Try to get seven to nine hours of sleep and go to bed around the same time to regulate your circadian rhythm. Talk to your doctor if you're having trouble sleeping, as they can determine if you have a sleep disorder like sleep apnea.
Visit Your Doctor
It's essential to schedule annual physical exams. Your doctor will suggest age-appropriate screenings and tests to check for conditions like diabetes, high blood pressure and high cholesterol. Regular check-ups are also important because they allow your doctor to spot health changes early on. That means you'll get the necessary treatment sooner and prevent long-term complications.
Preventing infection is another important aspect of healthy aging. You should get an annual flu shot to avoid contracting influenza and any secondary illnesses like bronchitis or pneumonia.
Learn About Ohioans Home Healthcare Services
The dedicated team at Ohioans Home Healthcare is committed to supporting your healthy aging. We offer personalized in-home care services to help you live your healthiest life.
Our services include:
Contact Ohioans or call 855-600-0806 if you're looking for in-home health care services in northwest Ohio.